Posted by Sally Bradley on 30th May 2017
As another month comes to an end we welcome our readers back to our monthly round up, where you can get a run down on what has been happening at Cabins Unlimited over the last month.
The month started off to a great start with some excellent feedback from a very happy customer. As featured in last month's round up, this customer came to us after their existing summer house was damaged by a falling tree in storm Doris. Once a skilled tree surgeon had removed the tree, our install team got hard at work removing the old summerhouse, tidying up the area and replacing it with a fantastic Rosedale summerhouse from our Albany range. As you can see from the feedback and the before and after photos the customer was very happy with her new summer house.
"I like to keep things local, so for this reason I chose Cabins Unlimited. What a good choice I made. Not only are they a great company and a friendly bunch, they are so professional. I would really recommend to anyone. Thank you so much for all your hard work"
The 2nd of May saw our Norfolk team of log cabin installers travelling over to Suffolk to fit 4m by 2.5m Kensington log cabin with black shingle tiles. This customer chose to opt for a plastic base system called ProBase rather than the more traditional concrete base. ProBase is made up of 50cm by 50cm recycled moulded plastic tiles that interlock with one another to create a super strong long-lasting base. To install this type of base the ground is first dug down if necessary to level it out as much as possible, a membrane is then put down and the tiles placed on top to create the size of the base. Each tile is then filled by approximately 15kg of 10mm pea shingle and levelled out using a spirit level. Once installed correctly, ProBase will provide an excellent base for your log cabin with the added benefit over concrete in that it allows air movement under the cabin and allows for drainage as well. We can quote for ProBase for any of our log cabins, sheds and summer houses, it can either be purchased on a supply only basis in 50cm increments or supplied and installed. Please note that prices only include the tiles, locking pins and membrane, in order to self install correctly or for our install team to fit for you, you'll need to supply 10mm pea shingle approximately 15kg per tile available from your local builders merchant or DIY store. You can find out more about plastic bases on our website here or call the team on 01362 470075 for further advice.
As you can see from the images below this Kensington log cabin really compliments this customer stunning landscaped garden.
The team also fitted a large custom made multi room heavy duty timber workshop supplied from Albany with the customer again opting for a Probase plastic base system. With the workshop panels constructed with thicker cladding and framework and with appropriate base bearers for the building this was a heavy job for the install team. Despite the weather and the hard work the simple but effective construction meant that this huge building was installed in less than a day. Like all of our other Albany sheds summerhouses and playhouses, this bespoke made workshop came with pre-treated timber which meant that once constructed the timber already had protection from the weather and could be used by the customer straight away.
May was certainly the month for sheds and workshops with lots of shed installations including this 12ft by 8ft Warwick Plus for a customer local to our showsite. This customer upgraded the roof covering to green shingle tiles to complement their garden and protect the vulnerable roof from water ingress and weather damage for 25 years plus. The Warwick's double doors make for easy access and the vast size options make it a very popular choice amongst our customers. This Warwick shed installation was part of a bigger landscaping transformation our team carried out including the removal of an old abandoned shed. You can view our Warwicks shed range on our website here.
Our ex-display Edinburgh 240, a wonderful corner summer house also found its new home in the garden of a local Dereham customer who had previously visited the show site a number of times admiring this stunning corner log cabin. Freshly protected in a couple of coats of Rystix exterior timbercare the Edinburgh 240 certainly looks great in its new home. Taking its spot on the showsite is the Ines log cabin with bi-fold doors. This cabin would be great as a hot tub enclosure or summer house for entertaining. The bi-fold doors fit almost the entire front of the cabin and once open really bring the outside inside perfect for those hot chilled out summer evenings or some start gazing at night.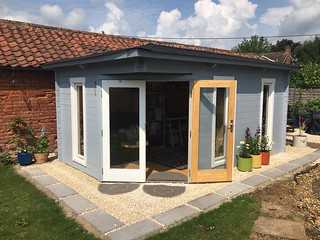 A trip to Essex saw the team install a 34mm 3m by 3m Brighton Log Cabin Summer House from our manufacturer Eurovudas. This log cabin made great use of an elevation in the garden, with its top spot and glazed double doors and full length windows giving an excellent view of the garden and surrounding countryside. As you can see in the photos below, the cabin arrived in its natural state ready to be treated after installation, over the following days the customer treated the outside of the log cabin in 3 coats of Rystix Exterior Armadek mixed to a lovely green colour that really compliments the surroundings. When treating, the inside is just as important which is why we have also supplied the customer with interior armafloor in a clear to preserve the natural timber finish.
After completing the Brighton summerhouse there was just enough time to pop round to another customer to finish treating her 68mm thick bespoke custom built two room log cabin after rain stopped play the week before. The customer had been extremely busy converting her log cabin into a home based physiotherapy treatment business, and she was kind enough to show the team around and share some photos with you all. We love seeing photos from inside customers cabins as it's a great way to show how versatile log cabins and summerhouses are as studios, hot tub enclosures, home offices hobby rooms and of course home based businesses.
At Cabins Unlimited we aren't simply log cabins, we are also able to quote on a wide range of additional services such as fencing, garden clearance, landscaping and patios, The team went back to a local customer to do just that this month with a garden clearance and new patio to go alongside their Liverpool log cabin that was recently installed. You can check out the photos below and for a quotation or discuss what we can do for you call the team on 01362 470075.
Last week the sun finally came out and as the temperature in Norfolk and on our show site rose, the team were out installing a ex-display hot tub from our sister company Spas Unlimited alongside the two room Anguilla Log Cabin. The Anguilla is a very popular cabin to use as a hot tub enclosure with the second room being perfect to adapt as a changing room or for towel and chemical store. Our expert hot tub fitters will be back to the customer later this week to commission the hot tub ready for the big and bubbly switch on.
Above is just a small show case of the installations that have taken place right across the country this month for Cabins Unlimited, others include the Jubilee Log Cabin, and the Dorset 34 Summer house.
The office team have also been busy this month too with lots of visits to the show site and lots of bespoke log cabin enquiries and custom built sheds. New on the website we have two models from Lasita; The Alexandra and the Padstow log cabin both of which are available for pre-order on our website now. We still have the Windsor Log Cabin on an excellent offer as well as our fantastic Facebook competition. So if you haven't popped over to our Facebook page yet go and take a look and check out the pinned post.
Next month sees more and more installations in the diary, as well as our attendance at the Norfolk Show and preparation for the Dereham Carnival in July. This is where we wrap up Mays monthly round up, for further information on any of our summerhouses, sheds and log cabins for sale call the team on 01362 470075 or pop down to our Norfolk log cabin and shed display site located just off the A47 at the football ground in Dereham. We are open 7 days a week weekdays 8.30-5 and weekends 10-4.