Description
The Claudia 1 is a beautiful Log Cabin, great to use as a relaxing summerhouse because of it's great ability to take in natural light. The Cabin comes complete with a 5 year guarantee, but the building will easily surpass this with the right base, timber treatment and roofing material. The building's lifetime can be increased especially by purchasing our optional shingle roof tiles which have an amazing 30 year life, as well as our amazing timber treatment; Rystix. The building has optional roof and floor insulation and this contributes even more to why this building can be a brilliant home office.
The building is also under 2.5m in ridge height, meaning that in most cases, you will not need planning permission. If this is something that you would be anxious to know then we advise that you contact your local planning authority in order to get permission for your Log Cabin.
Claudia 1 Summerhouse Quick Facts
Base Size Metric
3.2m x 2.4m
Base Size Imperial
10ft 6 ins x 7ft 11 ins
Log Thickness
28mm
Roof Type
Apex
Floor Area
7.4m2
Wall Height
2.05m
Ridge Height
2.49m
Roof Boards
19mm
Floor Boards
19mm
Door
Single (1)
Window
Single (4)
Glazing
Single
Reversible Construction Available
No
Claudia 1 Summerhouse Pricing
Cabin Price
£1970
Roof & Floor Insulation
£620
Shingle Tiles
£195
Pre-Treatment
£305
Side Extension
£810
ProBase - 35 Tiles inc pea shingle
£205
Claudia 1 Installation Pricing
Cabin with Roofing Material
£570
Insulation Fitting
£210
ProBase Fitting
£205
All the information on the Warranty for this Cabin or Summerhouse can be found here in our Palmako Warranty Section
Please click the below image to download the installation guide for this building. The installation guide provides you with the floor plans, specification and also full parts list.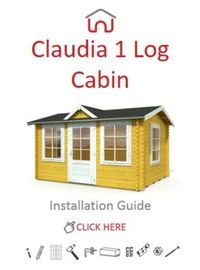 Additional Details
Building Type:

Cabin & Garden Room

Base Size:

3.2m x 2.4m

Roof Style:

Apex

Ridge Height:

Under 2.5m

Log Thickness:

28mm

Doors:

Single

Windows:

3/4 Length

Double Glazing:

No

Other Features:

N/A