Purchasing a summerhouse from a retailer with a display site offers several advantages over one with only an online store. Here are some reasons why it's important to consider a retailer with a physical display site:
Visualise the Product: A display site allows you to see the summerhouses in person, giving you a better sense of their size, design, and overall appearance. This visual representation can help you make an informed decision and ensure that the summerhouse aligns with your expectations. We have a huge range of cabins on display over our 3 sites.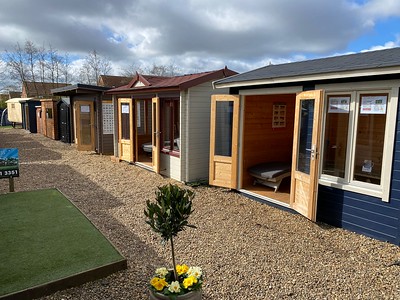 Evaluate Quality and Craftsmanship: By visiting a display site, you can closely examine the materials, construction, and finishes of the summerhouses. This hands-on evaluation allows you to assess the quality and craftsmanship, ensuring that you are investing in a durable and well-built structure.
Compare Different Models: At a display site, you can view and compare various summerhouse models side by side. This helps you assess the differences in design, layout, and features, making it easier to choose the one that best suits your needs and preferences.
Seek Expert Guidance: Retailers with display sites often have knowledgeable staff available to provide expert advice and answer any questions you may have. They can offer insights into different models, provide recommendations based on your requirements, and guide you through the selection process, ultimately making your decision-making easier.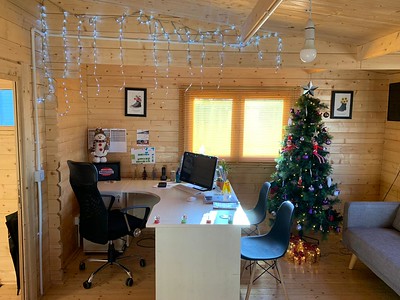 Get a Feel for the Space: Walking into a summerhouse at a display site enables you to get a sense of the interior space. You can determine if the layout and size meet your needs, envision how you would utilise the space, and ensure it fits your intended purpose, be it a home office, hobby room, or relaxation retreat.
Experience the Atmosphere: When you step inside a summerhouse at a display site, you experience the ambiance and atmosphere it creates. This can help you decide if it matches the style and ambiance you desire for your own space.
Develop some dialogue and rapport with the sales team and ask face to face questions. A good retailer will be able to answer the questions from first hand experience or will have a member of their team that can. This simply is not possible with an online retailer. We have staff on our sites all week, more than happy to help with any questions you may have.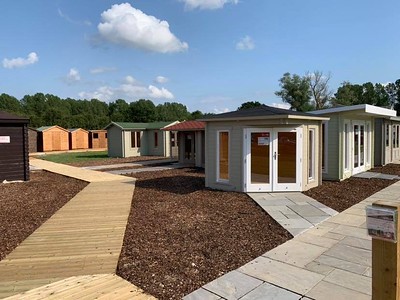 While online stores may provide convenience and a wide range of options, a retailer with a display site offers the opportunity for a more comprehensive and informed decision-making process. It allows you to see, touch, and experience the summerhouses first hand, aiding you in selecting the perfect one that best meets your needs and preferences.
Visit Us Today!
CABINS UNLIMITED DOWNHAM MARKET
STONECROSS LANE,
DOWNHAM MARKET,
PE38 0AD
TELEPHONE: 01366 610850
BLOFIELD,
NORWICH NR13 4LQ
TELEPHONE: 01603 327345